Updated 12.09.2023
How Much is Coach Hire in the UK? – If you are planning a big company event or a pub crawl among your friends, coordinating transportation can be quite the chore. Vans are not big enough, and lining up cabs for everyone creates a logistical nightmare; this has you playing with the idea of hiring a coach to make your transportation hassle-free, but you are not sure how much it will cost.
Coach hire in the UK costs roughly £45 per hour for a full-size coach of 36 or more people and approximately £41 per hour for a minibus of under 36 people. Daily, full-size coaches cost about £500, while minibuses cost slightly less per day.
While these prices give you a general idea of the cost of coach hire, many mitigating factors can cause the rate to vary significantly. Therefore, it is important to know exactly how you plan to use the coach to get a quote that offers the most competitive rate.
Key Factors Influencing Coach Hire Prices in 2023
Other Factors that Influence the Cost of Coach Hire in the UK
Although £45 per hour and £450 per day is a rough estimate of the cost of coach hire in the UK, several factors can cause these figures to vary in either direction.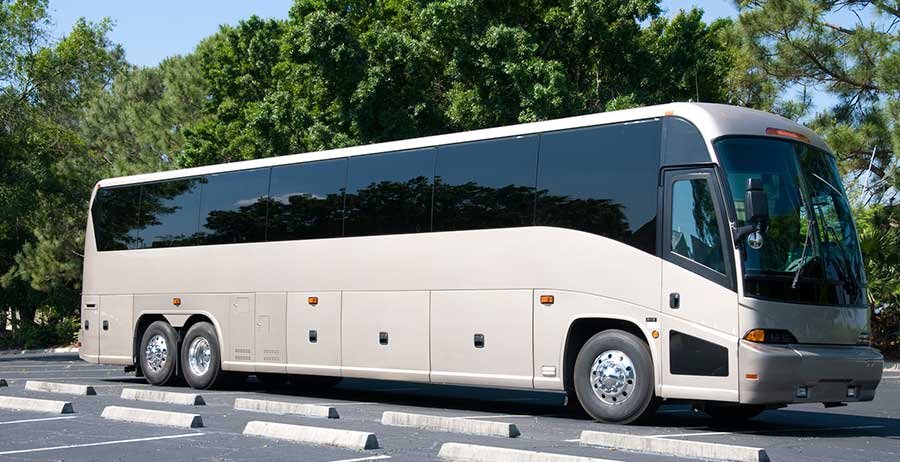 Duration
Brief rentals will be significantly more expensive (on a per-hour basis) than longer ones, as it is more difficult for coach companies to find drivers willing to work in short blocks and schedule a series of short-term trips to keep their coaches on the road.
In fact, most companies are likely to make you pay for at least three hours, regardless of whether you only use the coach for a short one-way trip.
Therefore, when exploring coach companies, it is important to check and see if they charge an hourly minimum. From there, calculate the quoted hourly rate with how long you plan to use the coach. In many cases, it will be advantageous to hire the coach at its daily rate, even if you do not need overnight service.
Distance
High-mileage trips will naturally be more expensive to cover the additional cost of fuel and wear on the coach. If your party is going to put heavy mileage on the coach during the day, £500 per day will likely be undershooting the quote. Some common ways in which coach companies structure mileage into their quote include:
One flat rate that includes unlimited mileage: This figure will be very high but may be cost-effective if your party will be spending a lot of time on the road.
A flat rate up to a specified mileage, with a per-mile charge for overages: This can be cost-effective if you have your itinerary scheduled with to-the-minute detail.
A base rate for hire, then an additional per-mile charge: This may be the best option for pub crawls or "see where the road takes us" type of road trips.
Quote options will vary among companies. It is important to know your schedule and estimated mileage before entering a contract.
Time of Year
Coach hire will be significantly more expensive during holidays and the summer tourist season than during slower travel periods. In fact, hiring a coach may be as much as three times more costly on New Year's Eve than it will be several weeks later at the end of a cold and dreary January.
It is also a good idea to keep an eye on the school calendar to see if there are any big sporting events or activities that may bump demand for coach hire.
No matter the season or special occasion, it is best to book your coach at least three months in advance to ensure the most competitive rate.
Starting Location
Rates for coaches will be most competitive when the departure origin is a suburb or the outskirts of a major city. Downtown locations, such as the heart of London, are too crowded to house a company fleet and have some streets that are too narrow for coach accessibility. Rural areas do not have sufficient demand for coach companies to service frequently.
Therefore, if you are departing from a downtown or rural area, you will likely have to pay the coach more to drive to your point of origin, especially if they do not have other passengers. (This is known as "deadhead.")
Another common scenario in which you are likely to pay deadhead is when the trip terminates at a point other than its origin, so make every effort to hire your coach for a round trip so that you are not paying it to drive back to its home base.
Additional Fees
Some routes will require access to toll roads and parking fees at hotels or destination venues. These fees are usually included as part of the quote, as most coach companies can get a discounted commercial rate.
Do You Have to Tip Coach Drivers?
Unfortunately, the quoted cost of a coach is not the final bottom line. Most companies do not include a gratuity for their driver when providing a quote, as tips are not considered mandatory. However, it is universally accepted that a tip of 10-20% is offered to the driver. Some of the reasons why a driver gratuity is standard include:
Assistance with luggage
Keeping the bus clean
Running errands that are not included on the itinerary
Expert knowledge and/or recommendations for things to do at a location
Do You Have to Pay for Coach Drivers' Lodging?
Another expense that is usually not included in a quote is the cost of a driver's lodging. For example, if you are part of a sports team with a multi-day championship event, you will be expected to book a room for the driver and the rest of the group.
Additionally, drivers are expected to be provided with reasonable hotel accommodations. If you hire a coach to explore various campgrounds in the countryside, you cannot expect the driver to pitch a tent with the rest of the party; you must book him or her a room in a nearby locale.
When making your hotel arrangements, check and see if any special rates are offered for drivers, as many chains will provide special discounts.
How to Manage the Costs of Coach Hire
While the lump-sum cost of coach hire may seem expensive, remember that the price per person will actually make coach travel more low-cost than most other options. Also, when planning your trip, use the following tips to make your trip as affordable as possible:
Make a detailed itinerary: The more information the coach company has, the better they can build you an accurate quote. Unexpected events, mileage, or trips will usually increase your cost after the fact, so have your schedule planned as accurately as possible in advance of the trip.
Try to hire for at least 24 hours: Considering that most companies charge for a minimum amount of time and the deadhead fee is likely to be added on one-way trips, it is very unlikely that hiring a coach by the hour will be the most cost-effective option. If your planned trip is expected to be short, try to find a way to combine events to make a day out of it and get the best possible value out of your 24-hour rental.
Book in advance: Like every other business, the coach industry operates on supply and demand principles. As supply diminishes and demand increases as an event approaches, prices will only go up.
Fill the coach: The price per person decreases with a greater fill rate, so try to ensure that you can fill a coach to max capacity before scheduling a trip.
Look for special minibuses: Some companies have special minibuses that can accommodate between 16 and 24 people. If you have a small party and only need the coach for a brief time, you may be able to get a low hourly rate on these coaches, perhaps as low as £21 per hour. For more information about minibus hire with driver and price details, click here.
In Summary
The cost to hire a coach in the UK is roughly £45 per hour or £500 per day. However, these loose figures can be influenced by factors such as trip duration, trip distance, time of year, starting location, and additional travel fees. Furthermore, the travel party will usually be expected to tip the driver and provide hotel accommodations in the event of an overnight trip.
While the lump-sum of coach travel appears hefty, the cost per person can actually be quite affordable. Therefore, before booking your coach, be sure to do the proper research and explore the various means of making your trip as inexpensive as possible.
Are you looking to hire a Coach? Please check our Coach Directory within the Minicab Index Directory.
FAQ
What are the different types of coaches available?
There are a variety of different types of coaches available for hire in London, including:
Standard coaches: These are the most common type of coach and are suitable for most travel needs.
Executive coaches: These coaches offer a more luxurious experience with features such as reclining seats, air conditioning, and onboard toilets.
Minibuses: Minibuses are smaller than coaches and are ideal for groups of up to 16 people.
Luxury minibuses: These minibuses offer a more luxurious experience than standard minibuses and may have features such as leather seats, Wi-Fi, and onboard entertainment.
What are the different ways to hire a coach in London?
There are a few different ways to hire a coach in London:
Directly from a coach hire company: This is the most common way to hire a coach. You can find a list of coach hire companies in London online or in the phone book. This is best option you are not dealing with middle man.
Through a comparison website: There are a number of comparison websites that can help you find the best price for a coach hire.
Through a travel agent: Travel agents can also help you book a coach hire. Maybe this will cost more.
What are the things to consider when hiring a coach in London?
When hiring a coach in London, there are a few things you should consider, such as:
The size of the coach: You need to make sure the coach is big enough to accommodate your group.
The length of the hire: You need to make sure you book the coach for the right length of time.
The time of year: The cost of hiring a coach can vary depending on the time of year.
The type of coach: You need to choose the right type of coach for your needs.
The terms and conditions: You need to read the terms and conditions carefully before you book.