Introduction – Things to do in Norwich
Things to do in Norwich, a vibrant city located in the heart of England, offers a plethora of activities and attractions that are sure to captivate both tourists and staycationers alike.
From its rich history and stunning architecture to its vibrant cultural scene and picturesque natural landscapes, there is something for everyone in this charming city.
Whether you're a history buff, an art enthusiast, a foodie, or simply looking to unwind and relax, Norwich has it all. In this article, we will delve into the top 10 things to do in Norwich, providing you with a comprehensive guide to make the most of your time in this captivating city.
1. Explore Norwich Cathedral
One cannot visit Norwich without marvelling at its magnificent cathedral, which dominates the city's skyline with its impressive spire. This is on of the best things to do in Norwich. Norwich Cathedral, dating back to the 11th century, is a masterpiece of medieval architecture and a testament to the city's rich religious heritage.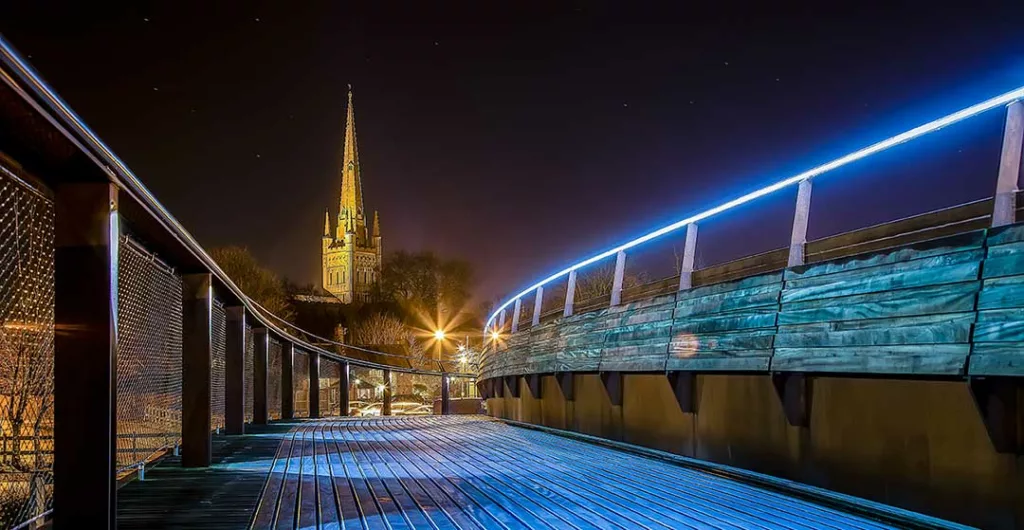 Take a stroll through its awe-inspiring interior, admire the intricate stained glass windows, and explore the beautifully manicured Cathedral Close. Don't forget to climb to the top of the tower for a breathtaking panoramic view of the city.
2. Wander through the Norwich Castle Museum and Art Gallery
For history enthusiasts and art lovers alike, a visit to the Norwich Castle Museum and Art Gallery is a must. Housed within a magnificent Norman castle, this museum offers a fascinating journey through Norwich's past, from the time of the Anglo-Saxons to the present day.
Marvel at the diverse collection of art and artefacts, including works by famous artists such as John Sell Cotman and Thomas Gainsborough. Be sure to explore the castle's dungeons and learn about the city's dark and intriguing history.
3. Immerse yourself in history at Elm Hill
Step back in time as you wander through the cobbled streets of Elm Hill, a well-preserved medieval street in the heart of Norwich. This picturesque area is brimming with historic buildings, charming tea rooms, and quaint boutiques. Admire the stunning Tudor architecture and soak in the timeless atmosphere as you explore the narrow passageways and hidden courtyards. Elm Hill is truly a gem that offers a glimpse into Norwich's medieval past.
4. Indulge in retail therapy at Norwich Market
For a unique shopping experience, head to Norwich Market, one of the oldest and largest open-air markets in England. With over 200 stalls selling everything from fresh produce and local delicacies to vintage clothing and handmade crafts, this bustling market is a haven for shopaholics and foodies alike. Immerse yourself in the vibrant atmosphere, sample some mouthwatering street food, and pick up some souvenirs to take home.
5. Discover the beauty of the Norfolk Broads
Escape the hustle and bustle of city life and venture into the tranquil beauty of the Norfolk Broads. Just a short drive from Norwich, this network of picturesque waterways, lakes, and marshes is a nature lover's paradise. Rent a boat, go for a leisurely stroll along the riverbanks, or embark on a wildlife-spotting adventure. Keep your eyes peeled for rare bird species, elusive otters, and stunning water lilies that adorn the water's surface.
6. Unwind in the Norwich Riverside Walk
For those seeking a peaceful retreat, the Norwich Riverside Walk is the perfect place to unwind and reconnect with nature. Set alongside the tranquil River Wensum, this serene pathway offers a leisurely stroll through picturesque meadows, verdant parks, and quaint riverside pubs. Take a moment to bask in the beauty of the surrounding flora and fauna, as the gentle sound of flowing water creates a soothing ambiance that is sure to wash away any stresses.
7. Experience the lively cultural scene
Immerse yourself in Norwich's vibrant cultural scene by catching a show at one of its numerous theaters or exploring its thriving independent art galleries. The Norwich Theatre Royal, Norwich Playhouse, and Norwich Arts Centre are just a few of the venues that regularly host a variety of performances, from captivating plays to cutting-edge contemporary art exhibitions. Don't miss out on the renowned Norfolk and Norwich Festival, a celebration of the arts that attracts artists and performers from around the world.
8. Sample local delicacies at the Norwich Lanes
Foodies rejoice! The Norwich Lanes, a charming maze of narrow lanes and alleys, is a culinary paradise just waiting to be explored. From traditional pubs serving hearty British fare to trendy cafes offering artisanal coffee and delectable pastries, this area is a haven for gastronomic delights. Indulge in the famous Norfolk crab, savor a pint of local ale, or treat yourself to a slice of homemade cake. With its diverse culinary offerings, the Norwich Lanes will tantalize your taste buds and leave you craving for more.
9. Unearth hidden gems at the Norwich Puppet Theatre
Nestled amidst the picturesque streets of Norwich lies a unique and enchanting venue, the Norwich Puppet Theatre. Delve into the magical world of puppetry as you attend one of their captivating shows, featuring a diverse range of handcrafted puppets brought to life by skilled performers. From classic tales to contemporary productions, the Norwich Puppet Theatre offers a truly unforgettable experience for both children and adults alike.
10. Attend a match at Carrow Road Stadium
For sports enthusiasts, experiencing the electrifying atmosphere of a football match at Carrow Road Stadium is a must-do in Norwich. Home to the renowned Norwich City Football Club, this iconic stadium is the perfect place to soak in the passion and excitement of English football. Cheer on the Canaries alongside thousands of devoted fans and witness the thrill of a live match that will leave you with lasting memories.
Conclusion
With its rich history, vibrant cultural scene, and picturesque landscapes, Norwich offers an abundance of activities and attractions that will satisfy any traveler's desire for adventure, relaxation, and exploration. From exploring medieval streets and iconic landmarks to immersing oneself in the city's arts and food scene, Norwich truly has something for everyone. So, whether you're visiting as a tourist or opting for a staycation, don't miss out on these top 10 things to do in Norwich. Prepare to be enchanted by this charming city and create memories that will last a lifetime.
Things to do in Norwich 2023 – FAQ
What are the most popular tourist attractions in Norwich?
• Norwich Cathedral is one of the most popular tourist attractions in Norwich. It is a beautiful Norman cathedral with a rich history. Norwich Castle is another popular tourist attraction. It is a medieval castle that was once the home of the Earls of Norfolk.
• The Broads National Park is a beautiful area of wetlands and waterways located just outside of Norwich. It is a popular destination for boaters, walkers, and cyclists.
• The Plantation Garden is a beautiful garden located in the heart of Norwich. It is home to a variety of plants and flowers, as well as a tearoom and a gift shop.
• The Museum of Norwich at the Bridewell is a museum that tells the story of Norwich from its earliest days to the present.
How long does it take to see the main attractions in Norwich?
You could easily spend a day exploring the main attractions in Norwich. However, if you want to take your time and really experience the city, you could easily spend a weekend or even longer.
What is the best time of year to visit Norwich?
Norwich is a beautiful city to visit year-round. However, the best time to visit is during the spring or summer when the weather is mild and sunny.
What is the best way to get around Norwich?
The city centre of Norwich is very compact and easy to walk around. However, there are also buses and taxis available if you need them. Public Transport, Taxi and Private Hire also available.
Where can I find the best places to eat in Norwich?
Norwich has a wide variety of restaurants to choose from, serving everything from traditional English food to international cuisine. Some of the most popular restaurants include:
• The Fat Cat: This pub serves up delicious pub food and has a great selection of beers on tap.
• The Fig Tree: This restaurant serves Mediterranean cuisine in a relaxed setting.
• The Assembly House Norwich: This restaurant is located in a beautiful Georgian building and serves fine dining cuisine.