Best Things to do in Jesmond! – Nestled within the vibrant heart of Newcastle upon Tyne, Jesmond stands as a charming suburb that seamlessly blends history, green spaces, dining, shopping, and a thriving community.
With its historic buildings, including the awe-inspiring Jesmond Parish Church, lush parks like Jesmond Dene, and a diverse culinary scene, Jesmond offers a perfect fusion of past and present.
Its lively streets, filled with boutique shops and a buzzing nightlife, create a dynamic yet welcoming atmosphere, making Jesmond a must-visit destination in the North East of England.
A Snapshot of Jesmond: Historic Charm meets Modern Energy
There's something about Jesmond that just draws you in. It's got that perfect balance of old-time allure and youthful vibrance a combination that is rarer than hen's teeth (as they say). Picture cobbled streets lined with historic red-brick buildings, lively modern cafes spilling with chirpy millennials, and traditional pubs standing proud beside cutting-edge bistros. It's a place where history and contemporary living converse together, creating an ambiance that's absolutely infectious.
How to Get to Jesmond: Transportation and Accessibility
Getting there isn't a gnarly task. It's just outside Newcastle's city center, but fear not, you won't need to hitch a ride on a horse. Go ol' fashion public transport has got you covered! Fancy a train ride? Hop on a metro from Central Station in Newcastle to Jesmond. Feel like some fresh air? Bike lanes galore! Plus, walking paths from the city center are aplenty.
Jesmond in a nutshell: A Glance at its Year-round Climate
No need for witchy weather spells here. Jesmond cheers up its gang with a classic British climate. Sure, you might need to pack a brolly or a windbreaker based on the time of year, but it keeps four true seasons in its pocket, each with its own charm. Whether you're a sun-seeker or a snow-lover, Jesmond's sure to please.
Immerse in the Works of Nature – Jesmond's Parks and Gardens
Nestled in the heart of Newcastle upon Tyne, Jesmond is celebrated for its enchanting parks and gardens, offering a serene escape from the urban hustle and bustle.
Central to Jesmond's natural beauty is Jesmond Dene, a picturesque park tracing the Ouseburn River. The park's wooded trails, babbling streams, and cascading waterfalls create a tranquil atmosphere. Jesmond Dene House, a converted manor now a boutique hotel, adds a touch of history to the landscape.
Jesmond's commitment to green spaces extends to Armstrong Park, a lush testament to Lord Armstrong's philanthropy, and Leazes Park, Newcastle's oldest public park. These areas invite leisurely walks, picnics, and recreational activities.
These meticulously maintained parks and gardens offer a haven for nature enthusiasts, families, and anyone seeking a moment of tranquility in the embrace of nature. With their rich biodiversity and serene ambiance, these green sanctuaries exemplify Jesmond's dedication to preserving the environment and enriching the lives of its residents and visitors.
Jesmond Dene: A Tranquil Escape in the Heart of the City
Imagine a serene green sanctuary smack dab in the middle of a bustling suburb. Yeah, it's almost as magical as it sounds. Jesmond Dene is a lush woodland park that is more than just a breath of fresh air.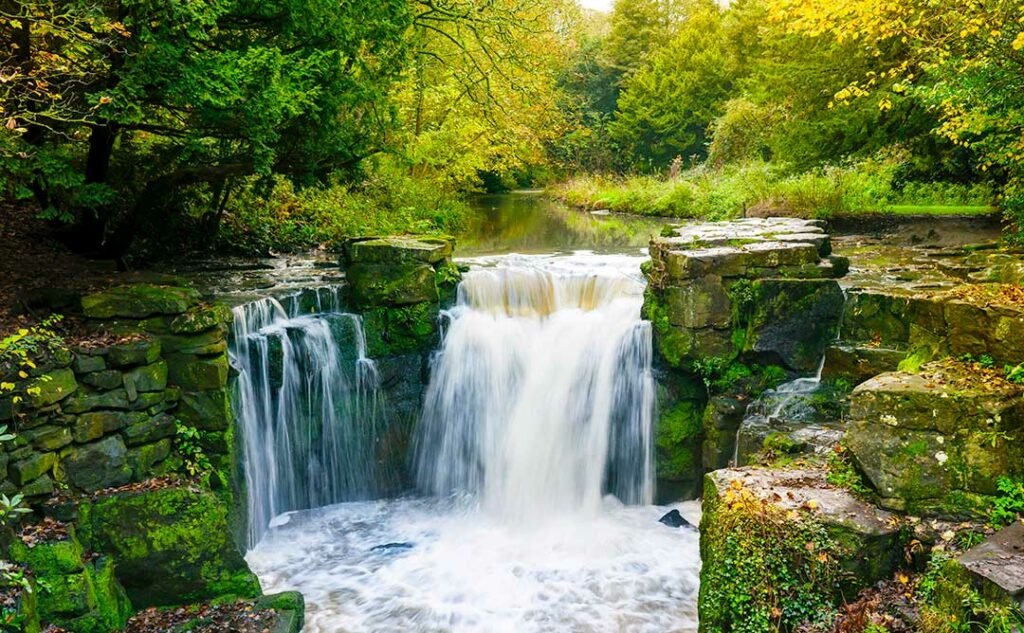 Your worries vanish as you meander through tree-lined pathways, over enchanting stone bridges, and past a plethora of fascinating wildlife– it's a nature's therapy, folks!
Heaton Park: Family Fun and Sporting Activities
More of a sporty chap, are you? Well, Heaton Park throws down a gauntlet. It's got everything from tennis courts to picnic spots, from manicured gardens to play areas for the little tykes. It's a one-stop-shop for family outings or a rejuvenating lone sports day. Sneakers or picnic basket, it's your call!
Armstrong Park: Walks, Wildlife, and Green Expanse
Ah, Armstrong Park, quite the dapper gentleman of the lot. High on scenery and low on crowds, it's your quintessential spot for a quiet stroll, a bit of bird-watching or a good ol' book read. Take advantage of the green heaven, perhaps enjoy a game of frisbee or simply lay back and nature-watch, it's up to you.
A Trove of Architectural Treasures – Jesmond's Historic Buildings
In the heart of Newcastle upon Tyne, Jesmond boasts a collection of historic buildings that weave a captivating narrative of the area's past. These architectural treasures are more than just structures; they are windows into the rich history of Jesmond, adding depth and character to the neighborhood.
Jesmond Parish Church is a remarkable example of English Gothic architecture, with its intricate stained glass windows and finely crafted stonework. As a centerpiece of the community, it serves as a timeless symbol of Jesmond's heritage.
The streets of Jesmond are graced by elegant Victorian and Edwardian houses, each a chapter in the story of the 19th and early 20th centuries. These well-preserved homes, with their distinctive architectural styles, offer a glimpse into the neighborhood's evolution over the years.
For those seeking a taste of bygone luxury, Jesmond Dene House, a former manor transformed into a boutique hotel, stands as a testament to opulence and refinement. Its grand façade and historic charm invite guests to step back in time.
These historic buildings collectively contribute to Jesmond's unique character, blending the past with the present and making it a captivating destination for history enthusiasts and anyone intrigued by the architectural legacy of this vibrant suburb.
Jesmond's Parish Church: A Journey through Time
Not to go all history geek on you, but the story of Jesmond Parish Church is one for the books.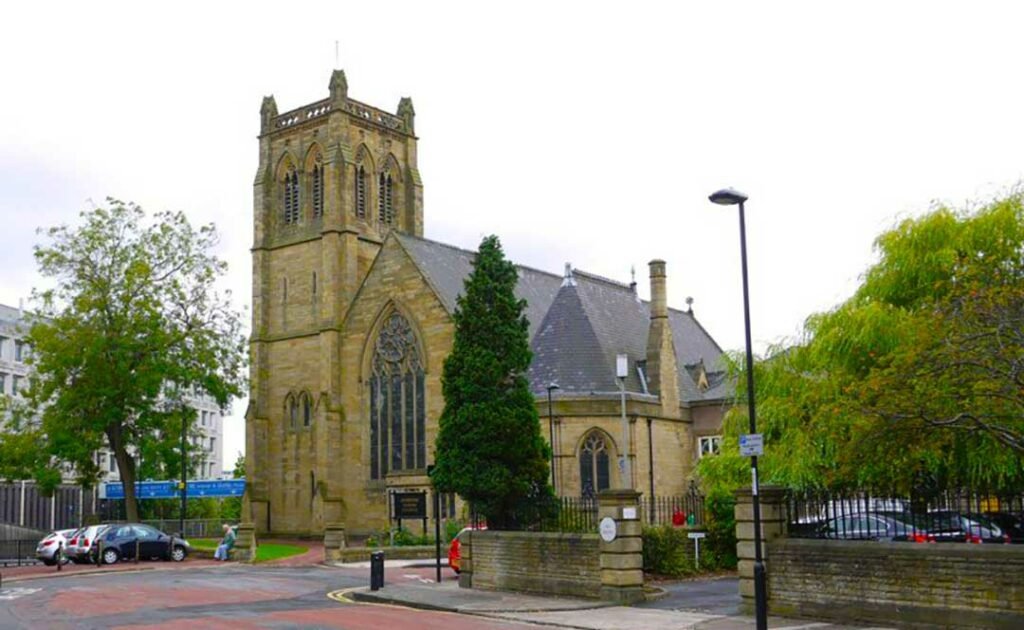 This stately edifice has been standing, since oh, forever! And guess what? It's not just an old building; it tells an eccentric tale of religion, architecture, and local history. You really must see the stained glass windows, they're a right treat!
The Blue House: An Intriguing Piece of History
Sounds like a fantasy movie title, doesn't it? But, rest assured, it's very real. The Blue House offers an intriguing sneak peek into the fabricated marvels of yesteryears. No spoilers here, but the story behind it is quite the buzz and certainly adds another dimension to the Jesmond experience.
Jesmond Towers: Neo-Gothic Splendor Amidst Beautiful Gardens
Ever wondered what 'Gothic Splendor' actually looked like? Well, ponder no more. Nestled in lush green landscapes, the Jesmond Towers, with their dramatic architecture and fairy-tale vibe, answers just that! It's a true beacon of neo-gothic beauty that's guaranteed to catapult you right into the 19th century!
Delectable Indulgences – Jesmond's Eating & Drinking Scene
Jesmond's dining and drinking scene is a vibrant tapestry of culinary delights and social gatherings.
This charming Newcastle suburb offers a diverse array of cafes, restaurants, and bars, making it a food lover's paradise.
Whether you're seeking a cozy spot for brunch, international cuisine, or a trendy cocktail bar, Jesmond has something to satisfy every palate.
With a mix of traditional charm and modern innovation, the dining scene in Jesmond promises a delightful journey of flavors and experiences.
Unique Coffee Shops in Jesmond: From Flat Whites to Iced Lattes
Move over Starbucks, Jesmond's got its own brews. The suburb is chock-full of unique coffee shops, each with their own quirky decor and choice of beans. Try the Flat White at "Coffee on the Dene" or the super-frothy cappuccino at "Brew and Bite". Oh, and the less said about the pastries, the better (yum!).
Quaint Pubs and Beer Gardens: Unwind with Local Ales
Nothing says 'Classic British Evening' like a cozy pub, a frothy ale, and some crisps on the side.
Whether you're after a traditional session IPA, a dark brooding stout, or a tangy craft beer, you've got more than a few options. And as you sip on your brew, feel free to look around, soak in the scene, and let the merriment drown everything else out.
Top-notch Restaurants: Savor a Spectrum of Global Cuisine
Whether you've got a hankering for Indian curry or a craving for Italian pasta, Jesmond has you covered.
The globe-trotting food scene here is as diverse as the people. High-class establishments serving sublime gourmet dishes, chirpy bistros offering comfort food classics, and trendy food trucks making out-of-this-world street food the foodie in you is definitely in for a treat.
Shoppers' Paradise – Jesmond's Retail Therapy Options
Jesmond's retail and shopping scene provides a delightful blend of boutique stores, high-street brands, and independent shops.
Stroll along Osborne Road to discover a variety of fashion, lifestyle, and specialty stores.
Whether you're searching for unique gifts, the latest fashion trends, or artisanal products, Jesmond's retail offerings cater to diverse tastes.
This charming suburb offers a relaxed shopping experience with a touch of sophistication, making it an ideal destination for those looking to indulge in retail therapy.
Boutique Shopping: High Street Brands and Local Gems
High street brands? Check. Independent boutiques? Check. Rare vintage finds? Check. Jesmond's shopping scene is like a virtual goodie bag. Whether it's a statement piece from a boutique on Acorn Road or vintage clothing from a charity shop, one thing's for sure you won't leave empty-handed.
Acorn Road: A Community Shopping Hub
Acorn Road is to Jesmond what pistachio is to a sundae the cherry on top!
This lively shopping hub is home to some of the most diverse set of shops, cafes, and boutiques in town. I
t's a community epicentre that is always abuzz, the kind of place where everyone seems to know each other, and strangers soon become friends.
Farmer's markets: Fresh Local Produce and Artisanal Products
"Buy Fresh, Buy Local" takes on a new meaning at Jesmond's farmer's markets. These markets are a testament to the richness of the local agriculture and artisan scene. Get your hands on some farm-fresh produce, handmade goodies, or finely crafted artisanal products. It's not just a shopping trip; it's an experience unto itself.
Staying in Jesmond – Hotels, B&B's and Boutique Hotels
Staying in Jesmond offers a delightful experience with a range of accommodations, including boutique hotels, charming B&Bs, and modern options. You'll find a comfortable haven to explore the lush parks, historic sites, vibrant dining scene, and more during your stay in Jesmond.
Conclusion
Make no mistake, Jesmond is not just another blip on the map. Its landscape is an ensemble of various eras, its populace, a mixed bag of age groups and its vibe, a symphony of yesteryears and todays. It's a place where antiquity shades overlap modern lines and create an intricate, unique masterpiece.
The beauty of Jesmond is that it's a year-round destination. Whether you're visiting under the bright summer sun, during the gold-hued autumn, in the crisp winter chill, or amidst the spring bloom, Jesmond will show you a good time. But as they say, timing is everything. So, do keep an eye on the local weather forecasts!
Jesmond loves to keep its feet on the ground. Walking and cycling are popular means of getting around this charming suburb. But if you're not up for that kind of adventure, there's always buses, metro services, and taxis ready to whisk you away to your next experience. Click here to explore more UK cities.
FAQs
Is Jesmond Safe for Tourists?
As a slice of the Geordie Homeland, Jesmond prides itself on having a welcoming and amicable atmosphere. Statistically, it is one of the safest suburbs in Newcastle. Just remember the golden rule of tourism keep your wits about you.
What are some unique local festivals/events in Jesmond?
There's always something cooking in Jesmond! From the Jesmond Festival a community-friendly event filled with food, music, and fun to the monthly Jesmond Food market that showcases local produce and dishes, there's always a party going on!
Can Jesmond be a base for exploring nearby tourist attractions?
Indeed! Jesmond provides easy access to nearby cities like Newcastle (a mere metro journey away) and is within driving distance of coastal and countryside attractions. So, grab your explorer's hat, and embark on an adventure!
Why is Jesmond so popular?
Jesmond is popular for a number of reasons, including:
• Its close proximity to Newcastle city centre, making it an ideal location for commuters and students.
• Its excellent transport links, with two Metro stations and regular bus services.
• Its wide range of amenities, including bars, restaurants, shops, and parks.
• Its vibrant student life, thanks to its proximity to Newcastle University.
What are some of the best things to do in Jesmond?
Here are a few of the best things to do in Jesmond:
• Visit Jesmond Dene Park, a beautiful park with woodland walks, meadows, and a waterfall.
• Take a walk along Osborne Road, Jesmond's main shopping street, which is lined with independent shops, cafes, and restaurants.
• Visit the Holy Hobo, a popular bar with a cosy atmosphere and a great selection of cocktails.
• Eat at one of Jesmond's many excellent restaurants, such as Dobson & Parnell or House of Tides.
• Visit the Ouseburn Valley, a former industrial area that has been transformed into a creative quarter with galleries, studios, and cafes.
How expensive is it to live in Jesmond?
Jesmond is one of the more expensive areas to live in Newcastle upon Tyne. However, there are a range of accommodation options available to suit all budgets.