Updated : 24.10.2023
The Omicron variant is currently the dominant strain of COVID-19 circulating globally. Omicron is more transmissible than previous variants, but it generally causes less severe illness. However, it is important to note that Omicron can still cause serious illness and death, especially in unvaccinated and immunocompromised people.
Vaccination is the most effective way to protect yourself from COVID-19. Over 11 billion doses of COVID-19 vaccine have been administered worldwide, and vaccines have been shown to be highly effective in preventing serious illness, hospitalisation, and death from COVID-19.
Even though the pandemic is not over, it is important to note that we are in a much better position than we were a year ago. Thanks to vaccines, testing, and treatments, we have the tools to control the virus and protect ourselves and our communities.
Here are some tips to stay safe and healthy during the COVID-19 pandemic:
Get vaccinated and boosted.
Wear a mask in public indoor settings.
Stay home when you are sick.
Wash your hands frequently with soap and water.
Avoid close contact with people who are sick.
If you have any questions or concerns about COVID-19, please talk to your doctor.
Posted On : August 6, 2020
Who would have thought that the world would come to a standstill in 2020? Well, this pandemic has affected and halted the progress in all sectors. Among the industries most affected is the transport sector. It's now obvious that things will never be the same again. Especially in the ways, we use transport and travel. This is not surprising. It is estimated that 1.5 billion tourists travelled globally in 2019.
We are sure that our travel and transport will never go back to normal. But we are not sure what will change temporarily and what will change permanently. All we can do is predict things. And that is why we want to share this post on COVID-19 and the future of travel and transport.
What is the impact of COVID-19 on travel and transport?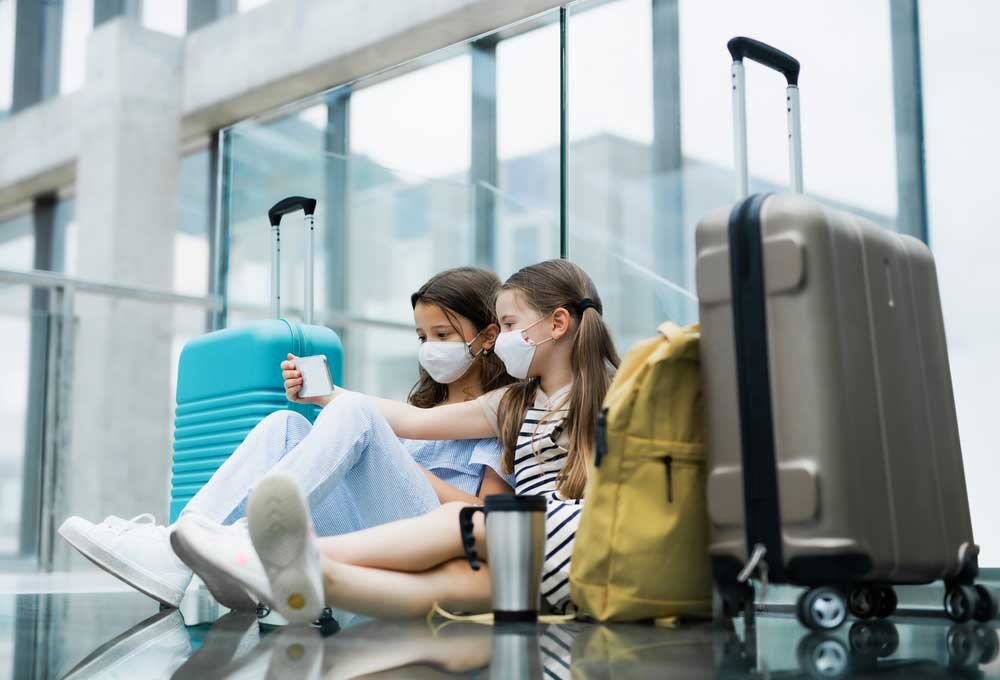 The impact that this pandemic will have on the transport sector will mostly rely on how long it will last?
Also, the ongoing restrictive measures could intensify the effect. These are measures taken by different countries with regards to travelling. Most governments have imposed lockdowns and travel ban. As a result, the journey numbers have fallen on all forms. The future of most transport businesses has been jeopardised.
One significant impact of the coronavirus on this sector will be on socio-cultural behaviour. There are varying views. People differ on the level to which different features of the lockdowns will proceed. They are not sure which one will continue after the crisis has subsided.
Some of the features with which people have varying opinions include homeschooling. They also include home working, travel choices, and retail choices. Continue reading below to find out what these options could mean to you. Find out also about the future of the transport and travel industry.
Travelling choices
When all the pandemic is over, people will go back to travelling. But they will do it in a different manner because of the virus. Although people will actively travel, the means of transport will change. Some cities have reported an increase in cyclists. The mode could improve the health of the individuals cycling to work and wherever they go.
Most people will likely change their mode of transport to avoid crowded places. The places include bus stops and train stations. Yet, this could, but, instil a constant fear of close contact trip or travel. We are not saying that this is the end of busy buses but highlight the possible long-term decrease in demand. It will be followed by a welcome change in travel habits towards active modes. Apart from that, the uninvited danger of raised short-distance car travel will also follow.
While the change is anticipated, the scale of this shift and how long it will last is unknown. An increase in private forms of travel will also be experienced after COVID-19. It will be applicable for longer distance journeys where such modes of travel exist.
The fear of close contact will increase and will lead to fewer people using public transport. Due to this, more people will use private vehicles or taxis. As a result, there will be an increase in pollution and congestion. The use of public transport will be less effective because of the fewer fares it will receive.
Bus users will be more vulnerable to all these socio-economic challenges. It's because they will have no option but use what's available to them.
Governments will have a task of improving and investing in public transport. They will need to provide informative and positive information through messaging the citizens. That will help to assure them that they are safe. Also, governments will need to ensure that they constrain the demand for cars.
It could be through actions like congestion charging. Another one is a lasting implementation of refined penetration schemes. This is to give cycling and walking a priority. Not only will this ease congestion, but it will also improve the quality of air in the cities affected.
Automated travel and transport
Transportation will be more automated in the future than before. Unnecessary interactions with aliens, queues, and getting into contact with things disgust passengers.
So, travellers would support this. They would support the acceleration of automation over commercial flight and urban movement.
The change would be so widespread. It will make the phrase touchpoint would actually fade from the map. But health officials will do their role to create contactless accessibility arrangements. All for mechanisms varying from pure to filthy. They will make sure all post them on placards in stations. They will do so in terminals to make the automation rollout a grand effort.
A new automation era would expand from the fundamental eradication of all remaining doors needing pushing and pulling. They would be more advanced. These may comprise eye-gesture-movement-based engagements with payment booths and in-flight entertainment displays. Others include drones and robots. All these will have UV lights that endlessly sanitise surfaces.
There will be artificial intellect that controls our earlier awkward efforts. At all, from taxi and bus scheduling and restraint the way to safety screening and plane boarding. The future automated systems would be compellingly clean and hyper-efficient. Some of the unnecessary persons will not be present in transport mechanisms. They include information booth attendants, drivers, security screeners, and gate agents.
We expect to have increased efficiency with the new systems. But there will be little or no empathy. There is some truth in this. Going on a trip with a special needs person or pets will be another issue. Don't forget the unavoidable peculiarity of AI and biometric systems. They would be situations that generate a deep, nearly-mystical ritual of calling a real person.
The result is real human wrestling with the systems that are created to resist disruptions and prevent human involvement. It is possible that some people will still have to deal with some hygiene robots stepping on them. Some will even encounter AI's advising them where to walk or sit. Governments are likely to state that disrupting an automated mechanism is a punishable offence. In fact, transportation systems are expected to be cleaner and very efficient.
Contamination concerns
When the world returns to normalcy, contamination issues will take centre stage in some people. These are people using public transportation and even those who use taxis. As mentioned earlier, this could be because of the rising concern with viruses and germs.
In the beginning, it will be a shaky restart. Most individuals utilising public transportation will not like it. It is because of this that we at MiniCab Index believe that a sharp increase in ridership will take time. Contamination issues will make most people cycle, walk, or use private cars. It will, in return, affect the rise sharing companies that have grown in recent years.
Most people will want to feel safe when travelling. As a result, there will be touch-less travel, especially with those who use flights. The touch-less travel will be visible in airports and hotels. There will be stringent cleaning arrangements set up. But some activities will represent a huge infection risk to everyone. Such activities include transferring travel documents. Others include getting in contact with surfaces via check-in, border control, security, boarding.
Contamination issues will be common. Yet care is a must to guarantee the technologies are comprehensive. It will help to eradicate the risk of possible biases.
Digital health passports
Whether you will be travelling using a cab or personal vehicles, things are not going to be the same. Since the COVID-19 identification onwards, health is a constant in all travel aspects.
An IATA survey reveals that some actions raise the feelings of passengers' safety. Especially when they think about trips after COVID-19.
Earlier on, crossing borders was all easy as long as you followed the guidelines and had a passport. Currently, there are no agreements set up by governments about borders re-opening. Thus people are not allowed to travel out of their countries.
All eyes are on assessing the risk of every passenger before the world finds a vaccine. To protect others using the same means of transport, travel firms will utilise your personal information. They will use it to compile your risk profile. Such data includes underlying health issues, travel history, and age. They will do it and of course, with your consent.
Governments are working on creating health protocols and measures. They are doing this by the use of digital technology for tourism and travel sectors.
Airlines like Emirates are carrying out an on-location coronavirus examination of passengers. Airports in the European have set up measures for traveller health screening. Thermal cameras have been in use around airports for some time. However, they are becoming more popular these days. Many countries have embraced the use of contact tracking and symptom tracking apps. To be specific, Google and Apple launched their contact tracing software in May. The software scheme enables developers to create compatible applications.
According to health experts, the latest health checking and monitoring tools provide optimism. Through the tools, passengers hope for a return to calm and assured travel. That means passengers will not trust any transport company not using these tools. But with these tools, comes data and privacy issues to the discussion.
Governments will need to provide secure and transparent solutions. These should be solutions that travellers will embrace without question. Sharing of data should on be required in mandatory situations. Also, it should be by authorised individuals and with the consent of the traveller.
The digital traveller
With the need to observe social distancing, many will become digital travellers. What does this mean? Digital marketing will come into action. This will help deal with the issue of social distancing. Digital ticketing will reduce queues. The mobile ticketing will reduce the waiting period by up to 75% when compared to cash payments.
As said earlier, your data will be collected. Mobile ticketing is among the digital methods that will be used to collect data. The ticketing will allow for customer data collection. As a result, the firms will find out about the behavioural patterns and trends. It includes identifying live interruptions that come from real-time area data.
Social distancing and lifestyle is something that will need addressing. We should address this as soon as possible. This is because it will be hard to overcome this. Many networks will be crowded during rush hour. This is when using a cab, personal car or public transportations.
Travel plans
Earlier, travel plans were not that complicated. After this pandemic, thy way you plan your travel will be completely different. To improve your travel experiences, you will need to have all you need on time. This includes COVID-19 tests. However, technology will take a critical role. Technology will help by keeping the travellers more informed and well connected. It will also allow transport workers to make the right decisions. But this will rely on the gathered data.
Technology will help travellers to get real-time updates about their journey. Travelling will need a lot of planning as more people will have to be cautious. That is where technology will help simplify other things. For instance, location-based monitoring lets providers see where the car is. It helps offer enlightened updates to the travellers. This will help to lessen the travel stress.
What next?
With all these in mind, you want to know what the future holds for us. Transport is not all about travel. It's more than that. It is an excellent way to connect people. It also takes a significant part in having us stay on the move. Whatever is happening in the world right now, is a temporary roadblock. It is critical that service providers utilize this period to invest. They should also use it to enhance for the upturn. As a result, travel companies, including ride-hailing firms, will serve clients better.
Investment in digital solutions is a good option for travel firms. Such investments help the firms to meet increasing traveller expectations.
How different modes of transport can lessen pressures
We have mentioned this before. There is a possibility that after the pandemic, more people will be walking and cycling. These modes of transport are environmentally-friendly and affordable compared to driving. Some governments, such as the United Kingdom have pledged to commit £2 billion for these alternative modes. This will help ease the pressures that are likely to be put on public transport.
Speaking about this in May, Grant Shapps, UK Transport Secretary, said this:
"With public transport's capacity severely restricted at this time, our trains and buses could become overcrowded and our roads gridlocked – holding up emergency services, critical workers and vital supplies."

May, Grant Shapps, UK Transport Secretary
The use of alternative modes of travel may assist to reduce the service providers' pressures. This is so that they may well get ready to answer to future demand increases after the pandemic. Also, it lessens transport congestion. Thus it makes it simpler to be compliant with the measures of social distancing. It also makes it easier to ensure that the essential workers can use it to move with high consciousness. Essential workers include healthcare staff.
Taxi industry
If you are a taxi operator or owner, you know how much this sector has been affected by this pandemic. Limousine and taxi services are the biggest hit in many countries. Wondering why they were affected? Well, most businesses, offices, and shops were shut down.
As a result, there is a low demand for these kinds of services. Most drivers estimate a drop in the fares they charge by over ⅔ in March 2020. This is because of the reduced demand for taxis. Ride-sharing firms like Uber and Lyft have experienced a lot of pressure from the COVID-19 pandemic.
Ride-shares prices went down by 6%. It happened month after month in March as stated by According to Canaccord Genuity pricing tracker report.
Thus the ride-hailing firms in different countries feel the pressure from the pandemic. As of now, travel constraints and lockdowns are slowly easing around the world.

Countries are starting to ease the restraints. The ride-sharing and taxi firms are working around the clock to take the appropriate measures. Their aim is to keep operators and passengers safe. Maintaining the best hygiene in and out of the car is the best thing that any firm can do.
The taxi services will have to embrace the usage of masks, cashless payment. They will also need to embrace the use of hand sanitisers.

Uber announced that this month its new feature will need operators to take a photo wearing masks. Constant sanitisation of cabs at regular intervals is part of the safety measures.
Conclusion
It is clear that things will never be the same again. Whether in the travel or tourism industry, things have changed forever. The travel sector will vary, and there is no doubt about that.
But any decisions that the significant stakeholders take needs to be comprehensive. And effective. Yet, we need to be ready for anything that might happen. The future is has a lot in store. Both the good and the bad.
FAQs
What are the latest COVID-19 travel requirements for my destination?
Entry requirements vary from country to country, so it's important to check the latest requirements for your destination before you travel. You can usually find this information on the website of your country's foreign ministry or the embassy of your destination country.
Do I need to be vaccinated to travel in 2023?
Some countries require visitors to be fully vaccinated against COVID-19 for entry. Others may accept proof of a negative COVID-19 test or recovery from a previous infection. Be sure to check the latest requirements (2023 Winter) for your destination before you travel.
What can I do to reduce my risk of getting COVID-19 while traveling?
There are a number of things you can do to reduce your risk of getting COVID-19 while traveling, including:
• Getting vaccinated and boosted
• Wearing a mask in public indoor settings
• Washing your hands frequently with soap and water
• Avoiding close contact with people who are sick
What should I do if I test positive for COVID-19 while traveling?
If you test positive for COVID-19 while traveling, you should isolate yourself from others and follow the advice of local health authorities. You may also need to notify your travel insurance provider.
What can I do if I need to cancel my trip due to COVID-19?
If you need to cancel your trip due to COVID-19, you may be able to get a refund from your travel insurance provider. Be sure to check your policy carefully to see what is covered.
Do I need to wear a mask on the plane 2023 Winter?
As of October 24, 2023, most major airlines around the world have dropped mask mandates. However, there are still a few airlines that require passengers to wear masks on board, and some countries may have mask requirements in place for flights arriving or departing from their territory. Still require passengers to wear masks on board. However, there are some exceptions, such as for young children or people with medical conditions.
Here is a list of airlines that currently require masks on board:
Air China, Air India, Air Korea, Air Serbia, Emirates, Etihad Airways, Hawaiian Airlines, Hong Kong Airlines, Japan Airlines, Kenya Airways, Philippine Airlines, Qatar Airways, Royal Air Maroc, Saudia, Singapore Airlines, SriLankan Airlines, Turkish Airlines, United Arab Emirates.
It is important to check with your airline before you fly to see if they have any mask requirements in place. In addition to airline requirements, you should also check the mask requirements for your destination country. Some countries, such as China and Japan, still require visitors to wear masks in public indoor settings, including on airplanes.
I hope this information is helpful. Please let me know if you have any other questions.
Can I get travel insurance that covers COVID-19?
es, there is now medical travel insurance available that covers COVID-19. However, it's important to compare different policies carefully to make sure you're getting the coverage you need.