Introduction
Eastbourne, a charming coastal town located on England's southeast coast, offers an array of incredible experiences and attractions.
From its rich historical past to its breathtaking natural beauty, vibrant art and culture scene, delightful gastronomy, and diverse outdoor activities, Eastbourne has something for everyone.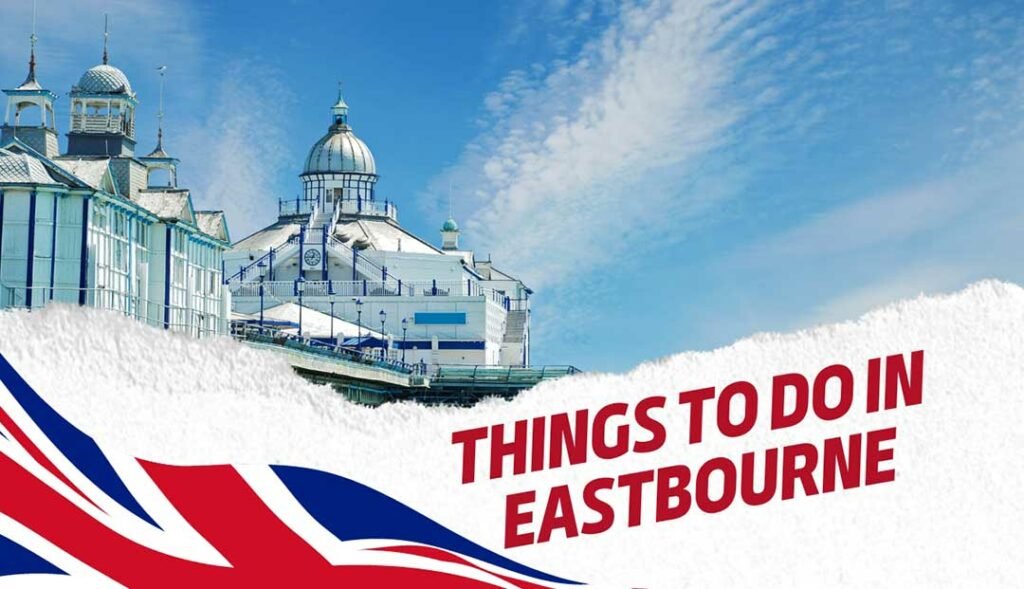 Whether you're a history enthusiast, nature lover, art connoisseur, or adventure seeker, this article will guide you through the best things to do in Eastbourne in 2023.
Unveiling Eastbourne's Historical Gems
Eastbourne's roots trace back to ancient times, and exploring its historical gems is a journey into the town's fascinating past. Here are some must-visit destinations for history enthusiasts:
Discovering Eastbourne's rich history: From ancient roots to Victorian splendor
Eastbourne's history can be traced back to the Stone Age, but it was during the Victorian era that the town flourished. A walk through its streets is like stepping into a living history book, with magnificent architecture reflecting the opulence of the Victorian era.
Exploring the iconic Eastbourne Pier and its fascinating past
The Eastbourne Pier stands proudly as a symbol of the town's history and charm.
Originally built in 1870, it has witnessed the changing times and remains a popular spot for leisurely strolls, stunning views, and amusement attractions. Take a walk along the pier and immerse yourself in its fascinating story.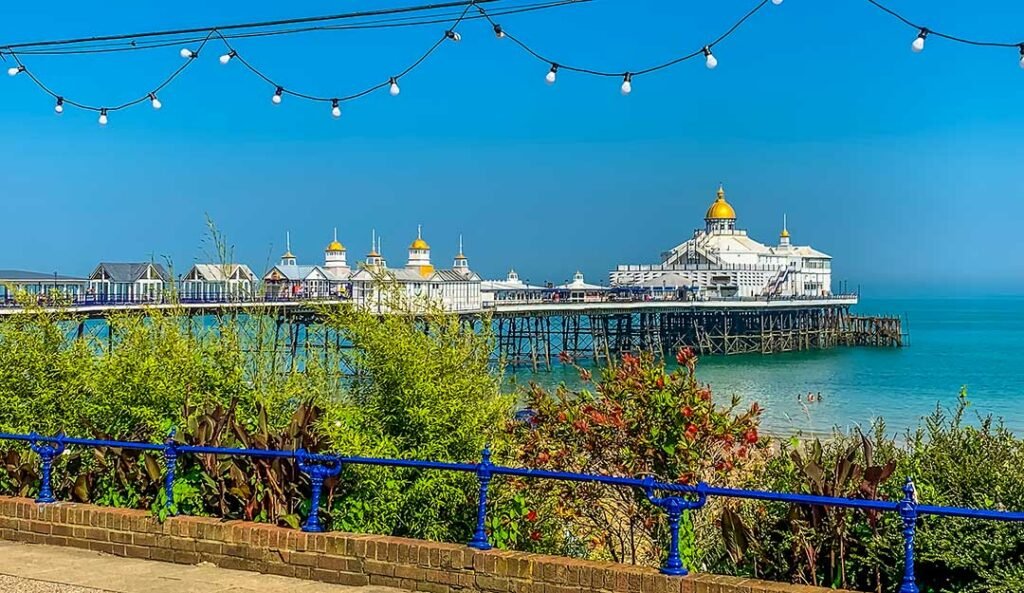 Travel back in time at the mysterious Redoubt Fortress
The Redoubt Fortress, a historic military fortification dating back to the early 19th century, offers a glimpse into Eastbourne's defensive past. Explore its mysterious corridors, discover ancient artifacts, and learn about the town's role in defending the English coast.
Breathtaking Natural Delights
Nature lovers will be captivated by Eastbourne's picturesque landscapes and breathtaking natural wonders. Here are some top natural delights to explore:
Strolling through the enchanting Carpet Gardens
Situated along Eastbourne's picturesque promenade, the Carpet Gardens are a true horticultural paradise.
Take a leisurely stroll through the vibrant flower beds, beautifully manicured lawns, and peaceful pathways. The gardens offer a serene escape and a sensory delight.
Get lost in the stunning beauty of the South Downs National Park
For those seeking outdoor adventures, a visit to the South Downs National Park is a must. This expansive and diverse landscape boasts rolling hills, dramatic chalk cliffs, ancient woodlands, and panoramic views. Explore the network of hiking trails, breathe in the fresh air, and immerse yourself in nature's wonders.
Take a leisurely walk along the magnificent Beachy Head cliffs
Rising majestically from the coastline, the Beachy Head cliffs offer a dramatic and awe-inspiring sight. Embark on a leisurely walk along the cliff-top trails, gaze out at the endless stretch of the English Channel, and witness nature's raw beauty.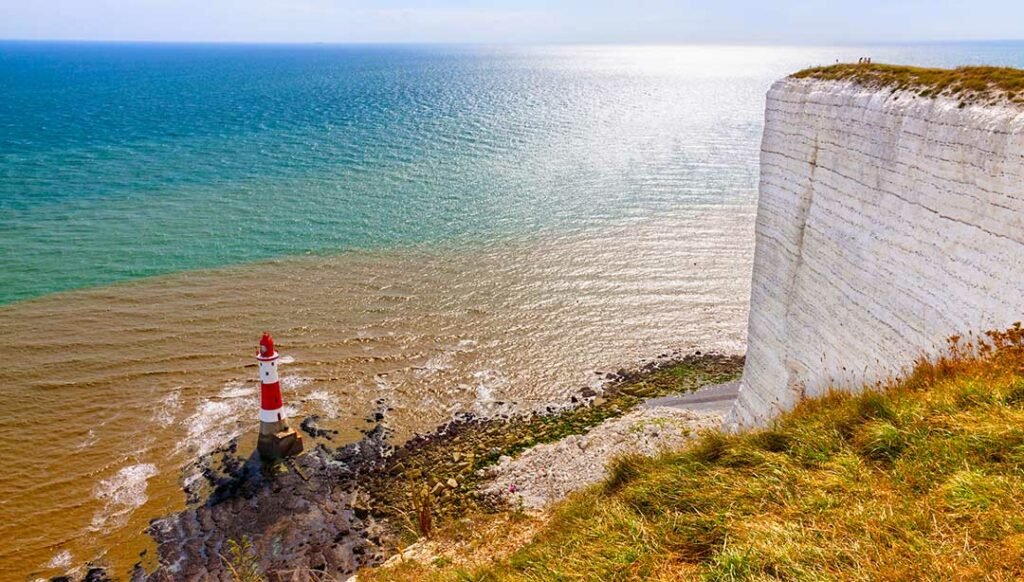 Don't forget your camera – the views are simply breathtaking.
Diving into Art and Culture
Eastbourne's vibrant art and culture scene offer a delightful mix of exhibitions, performances, and historical insights. Here are some not-to-be-missed cultural experiences:
Immerse yourself in art at the Towner Art Gallery
The Towner Art Gallery is a haven for art enthusiasts, showcasing a diverse collection of modern and contemporary artworks. From thought-provoking exhibitions to interactive installations, this gallery pushes boundaries and offers a glimpse into the world of artistic expression.
Unearth Eastbourne's artistic heritage at the Heritage Centre
Located in the heart of Eastbourne, the Heritage Centre allows visitors to delve into the town's artistic past. Discover the works of local artists, appreciate their contributions to the community, and gain a deeper understanding of Eastbourne's cultural evolution throughout the years.
Attend a captivating performance at the Congress Theatre
For a truly mesmerizing experience, catch a performance at the Congress Theatre. With its grand architecture and state-of-the-art facilities, this historic venue hosts an array of captivating shows, including theater productions, music concerts, and dance performances. Immerse yourself in the world of performing arts and be whisked away by the talent on display.
A Gourmet Adventure Awaits
Eastbourne's culinary scene is a true delight, offering a diverse range of flavors and experiences. Here are some top recommendations for food enthusiasts:
Indulge in culinary delights at the Little Chelsea area
The Little Chelsea area of Eastbourne is a food lover's paradise. With a vibrant mix of independent cafes, restaurants, and delis, you'll find an array of culinary delights to satisfy your taste buds. From international cuisines to local favorites, this neighborhood offers a gastronomic adventure like no other.
Savor exquisite seafood at the renowned local eateries
Situated on the coast, it's no surprise that Eastbourne boasts some of the freshest and most delectable seafood in the region. Visit the locally-owned seafood eateries and tuck into mouthwatering dishes featuring locally sourced fish, crab, lobster, and more. Prepare to be delighted by the flavors of the sea.
Enjoy traditional English tea at charming tea rooms
No visit to Eastbourne is complete without indulging in the quintessential British experience of afternoon tea. Venture into the town's charming tea rooms, where you'll find an array of meticulously brewed teas, homemade scones, finger sandwiches, and decadent cakes. Relax, unwind, and savor the flavors of tradition.
A Haven for Nature Enthusiasts
Eastbourne is a paradise for nature enthusiasts, offering a variety of outdoor experiences that are sure to leave you feeling rejuvenated. Here are some top recommendations:
Embark on a wildlife-watching adventure at the Seven Sisters Country Park
Seven Sisters Country Park, located near Eastbourne, is home to a stunning array of wildlife and offers endless opportunities for exploration.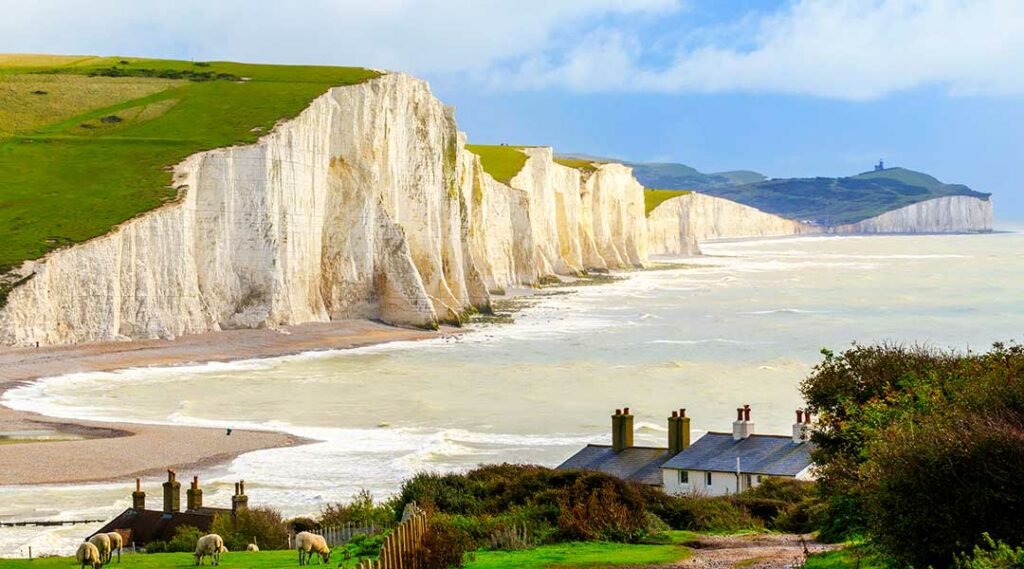 Wander along the winding trails, breathe in the fresh air, and keep an eye out for birds, butterflies, and other fascinating creatures that inhabit this natural haven.
Visit Drusillas Park for a memorable animal encounter
Drusillas Park is a family-friendly destination that combines wildlife conservation with educational and entertaining experiences. Get up close and personal with a wide range of animals, from meerkats to penguins, and take part in interactive activities that will both educate and inspire.
Immerse yourself in serenity at the picturesque Helen Garden
Escape the hustle and bustle of everyday life and find inner peace at the Helen Garden. This tranquil oasis, nestled within Eastbourne, offers a serene setting for quiet contemplation, meditation, or simply a leisurely walk. Surround yourself with nature's beauty and let your worries melt away.
Thrilling Water Activities
If you're seeking thrills and excitement, Eastbourne's coastal location provides an array of water-based adventures. Here are some exhilarating activities to try:
Experience the excitement of paddleboarding and kayaking
Take to the waves and discover the thrill of paddleboarding or kayaking along Eastbourne's coastline. Feel the refreshing ocean spray on your face as you glide through the water, reveling in the sense of freedom and adventure these activities provide.
Take a thrilling jet ski ride along the stunning coastline
For an adrenaline rush like no other, hop on a jet ski and zip across the waves at high speed. Explore the hidden coves, feel the wind in your hair, and experience the sheer exhilaration of this water sport. It's a truly unforgettable way to explore Eastbourne's stunning coastline.
Explore the vibrant marine life through snorkeling and scuba diving
Delve beneath the sparkling waves and discover a whole new world of marine life through snorkeling or scuba diving. Eastbourne offers fantastic diving spots, where you can encounter colorful fish, intriguing shipwrecks, and underwater ecosystems. It's an opportunity to connect with nature in a truly remarkable way.
Sports and Recreation Galore
Eastbourne is a hub for sports and recreation, catering to those with a penchant for active pursuits. Here are some top recommendations:
Play a round of golf at one of Eastbourne's prestigious courses
Golf enthusiasts will be delighted by the variety and quality of golf courses in Eastbourne. Tee off amidst stunning landscapes, challenging fairways, and well-manicured greens. Whether you're a seasoned pro or a beginner, Eastbourne offers golf courses to suit every skill level.
Engage in adrenaline-pumping activities like paragliding and skydiving
For the thrill-seekers, Eastbourne offers the opportunity to take to the skies in extraordinary ways. Experience the sheer exhilaration of paragliding and soar over the town, taking in breathtaking aerial views. Alternatively, for the ultimate adrenaline rush, try skydiving and feel the rush of freefall before parachuting to the ground.
Hidden Gems and Unusual things to do in Eastbourne
Italian Gardens
These secluded gardens are located on the seafront and offer stunning views of the English Channel. They're a great place to relax and escape the hustle and bustle of the town.
Alfresco Shakespeare
In the summer months, the Italian Gardens host open-air Shakespeare performances. Pack a picnic and enjoy a show in this beautiful setting.
Devonshire Park Theatre
This historic theatre is located in the heart of Eastbourne and hosts a variety of performances, including musicals, plays, and concerts.
Nigel Greaves Gallery
This gallery showcases the work of local and international artists. It's a great place to browse for unique souvenirs.
Sovereign Harbour Marina
This marina is located on the outskirts of Eastbourne and is home to a variety of shops, restaurants, and bars. It's a great place to take a stroll, enjoy a meal, or go for a boat trip.
Willingdon Golf Club
This 18-hole golf course is located on the outskirts of Eastbourne and offers stunning views of the Sussex countryside. It's a challenging course for golfers of all abilities.
Eastbourne, a picturesque coastal town, offers a variety of attractions for visitors. Whether you're here for its iconic landmarks or serene beaches, finding the right place to stay is crucial.
Booking an affordable hotel in Eastbourne ensures you're centrally located to all major attractions. Hotel Price starts from £35 for double bed for night click here to check more deals. For those traveling on a tighter budget, there are plenty of cheap hotel spots that provide comfort without compromising on quality. With the right accommodation, your stay in Eastbourne can be both memorable and cost-effective.
Conclusion
Eastbourne is a town that effortlessly combines rich history, enchanting natural beauty, vibrant art and culture, delectable gastronomy, and thrilling outdoor activities.
Whether you're a history buff, nature enthusiast, art lover, foodie, or adventure seeker, Eastbourne has it all. In 2023, make it a point to visit this charming coastal destination and immerse yourself in the diverse and captivating attractions it has to offer. Discover more UK City and Staycation Destinations.
FAQ
What is the best time of year to visit Eastbourne?
Eastbourne enjoys a mild climate, making it a pleasant destination to visit at any time of the year. However, the summer months, from June to August, offer the warmest weather, ideal for outdoor activities and beach visits.
Are there any free attractions in Eastbourne?
Yes, Eastbourne offers several free attractions to explore. The Carpet Gardens, Eastbourne Pier, and Seven Sisters Country Park are among the attractions that come with no admission fees. Additionally, Eastbourne's stunning coastline provides endless opportunities for leisurely walks and breathtaking views, all without a price tag.
How far is Eastbourne from London?
Eastbourne is located approximately 74 miles (119 kilometers) southeast of London. The journey from London to Eastbourne by road or rail takes around 1.5 to 2 hours, making it easily accessible for day trips or longer stays.
Can I visit the Beachy Head Lighthouse?
Unfortunately, the Beachy Head Lighthouse is not open to the public for visits. However, the surrounding cliffs and coastal paths offer spectacular views of the lighthouse from various vantage points.
Are there any family-friendly activities in Eastbourne?
Absolutely! Eastbourne offers a wide range of activities suitable for families. Drusillas Park, the Heritage Centre, and the stunning Helen Garden are just a few of the family-friendly attractions that provide entertainment and education for visitors of all ages. Additionally, the town's sandy beaches provide a perfect playground for children, with opportunities for sandcastle building, picnicking, and paddling in the shallows.