Welcome to Cambridge, the historic city that blends old-world charm with modern innovation. Renowned for its world-class university, stunning architecture, and picturesque landscapes, Cambridge offers a range of activities and attractions that cater to the diverse interests of visitors.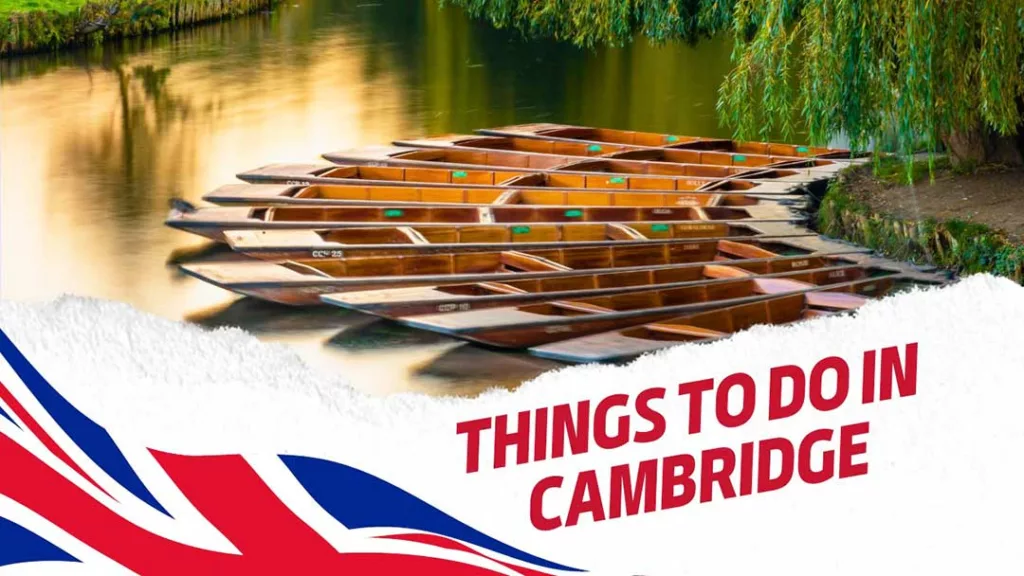 Whether you're a history buff, a science enthusiast, or a lover of the arts, this guide will help you discover the best things to do in Cambridge. Get ready to explore and be inspired by this vibrant city!
Nestled on the banks of the River Cam in eastern England, Cambridge is a city that seamlessly intertwines centuries of history with the vibrancy of modern innovation.
It's a city where medieval architecture stands proudly beside cutting-edge research facilities, and where cobblestone streets echo with the footsteps of some of history's greatest thinkers. World-renowned for its prestigious university, Cambridge is more than just an academic powerhouse.
With its picturesque riverside views, bustling marketplaces, and a rich tapestry of cultural events, the city offers a myriad of experiences waiting to be explored. Whether you're an avid scholar, a history enthusiast, or simply a curious traveler, Cambridge promises a journey of discovery at every corner. Dive in as we guide you through the must-visit spots and hidden gems of this iconic city.
Historical Landmarks and Architecture – Best Things to Do in Cambridge
Cambridge isn't just a city; it's a living museum of architectural marvels and historical landmarks that bear testimony to epochs gone by.
As you wander its ancient lanes, every brick and stone whispers tales of centuries past. From the majestic spires of its storied colleges to the intricately carved facades of historic buildings, Cambridge offers an unparalleled journey through architectural evolution.
Gothic, neoclassical, and modern styles stand shoulder to shoulder, a testament to the city's enduring reverence for the past and its embrace of the future. Join us as we delve into the rich tapestry of Cambridge's built heritage, exploring the stories and the artistry that have shaped this iconic cityscape.
King's College Chapel
One of Cambridge's most iconic landmarks, King's College Chapel is a masterpiece of Gothic architecture. Step inside and admire the intricate fan vaulting and stunning stained glass windows that have captivated visitors for centuries. Don't miss the opportunity to attend a choral evensong, where the soaring voices of the King's College Choir fill the chapel with heavenly music.
Cambridge University
Explore the world-renowned Cambridge University, which boasts a rich history dating back to the 13th century. Wander through the beautiful college grounds and soak up the academic atmosphere. Visit the famous Trinity College, where Sir Isaac Newton and Lord Byron once studied, and marvel at the Mathematical Bridge, an architectural marvel that defies logic.
The Fitzwilliam Museum
Immerse yourself in art and culture at the Fitzwilliam Museum, which houses an impressive collection of paintings, sculptures, and artifacts from around the world. From ancient Egyptian mummies to masterpieces by Rembrandt and Monet, this museum offers a journey through time and creativity.
The Cambridge University Botanic Garden
Take a leisurely stroll through the Cambridge University Botanic Garden and discover a diverse range of plant species from around the world. With beautifully landscaped gardens, glasshouses, and a stunning lake, this oasis of tranquility is the perfect place to relax and enjoy nature's beauty.
Punting on the River Cam
In the heart of Cambridge, amidst its grand colleges and historic bridges, flows the tranquil River Cam, the lifeblood of many of the city's most cherished traditions. Among these, punting stands out as an experience quintessentially Cambridge.
Whether it's students escaping the rigours of academic life, tourists capturing picturesque vistas, or locals simply savouring a sunny day, punting offers a unique vantage point to witness the city's beauty. As the flat-bottomed boat glides smoothly over the water, propelled by a pole pushing against the riverbed, one is transported to a bygone era.
The reflections of the storied colleges in the water, the gentle lapping of the river against the boat, and the rhythmic push of the punt pole create a serene, almost meditative experience. Join us as we embark on a journey along the River Cam, delving into the history, techniques, and enduring charm of punting in Cambridge.
Punting
Experience the quintessential Cambridge activity of punting on the River Cam. Hop on a traditional flat-bottomed boat and let your guide steer you along the river as they regale you with fascinating stories and historical facts about the city and its colleges. Admire the backs of the colleges and revel in the scenic beauty that surrounds you.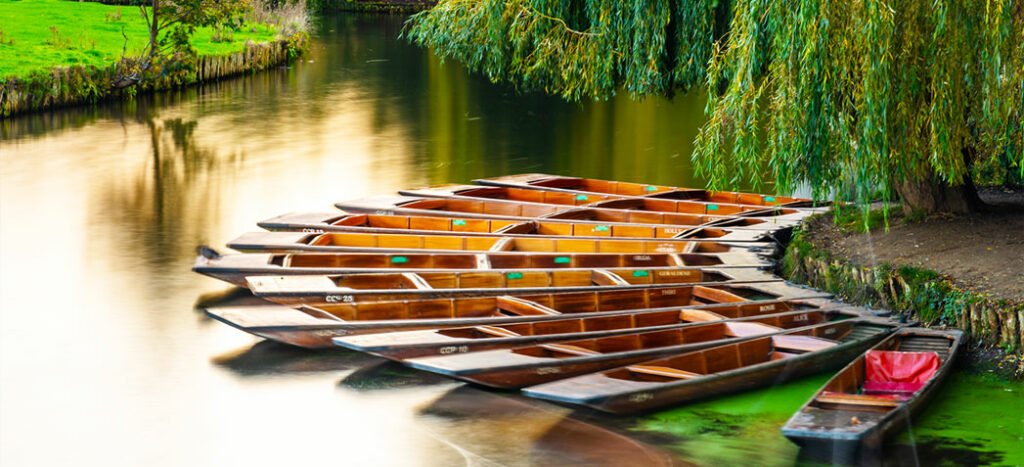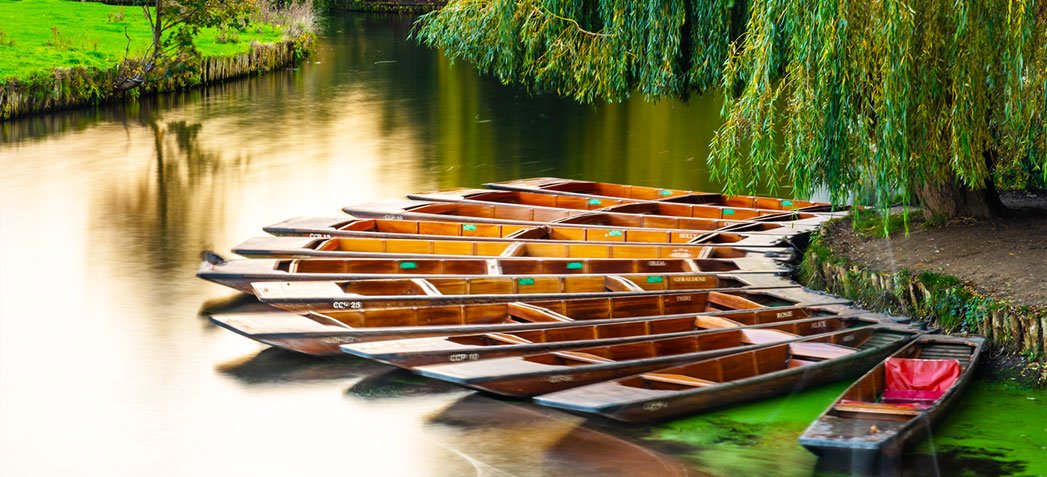 Here are some tips for punting in Cambridge:
Book your tour in advance, especially if you are visiting during peak season.
Wear comfortable shoes and clothing, as you may be required to step in and out of the punt at the start and end of your tour.
Bring sunscreen, sunglasses, and a hat, especially if you are punting on a sunny day.
Be aware of your surroundings and other punters on the river.
If you are self-hiring a punt, make sure to get instructions from the punting company on how to steer and operate the punt safely.
Punting is a fun and relaxing activity that is suitable for people of all ages and abilities. It is a great way to experience the beauty of Cambridge and to learn more about the city's history and culture.
Grantchester Meadows
Extend your punting adventure by visiting Grantchester Meadows, a tranquil natural haven just outside of Cambridge. Enjoy a picnic on the riverside as you soak in the peaceful ambiance, or take a walk along the meadows and admire the picturesque views that inspired famous poets such as Rupert Brooke and Lord Byron.
Museums and Science Centres
Cambridge, a name synonymous with academic excellence and intellectual pursuits, extends its reverence for knowledge beyond just its legendary university.
Scattered throughout the city are museums and science centres that house a vast collection of wonders, from ancient artefacts to cutting-edge scientific discoveries. These institutions serve as a gateway to both the past and the future, inviting visitors to journey through time and explore the myriad facets of human achievement.
Whether you're delving into the annals of history, admiring priceless works of art, or marveling at the latest innovations in science and technology, Cambridge's museums and science centres offer a treasure trove of experiences. Join us as we guide you through these hallowed halls, each echoing with tales of discovery, innovation, and inspiration.
The Museum of Archaeology and Anthropology
Delve into the fascinating world of human history at the Museum of Archaeology and Anthropology. Explore the diverse cultures and civilisations through their artefacts and learn about the evolution of human society. From ancient Egyptian mummies to tribal art from Africa, this museum offers a captivating journey across continents.
The Whipple Museum of the History of Science
Unleash your inner scientist at the Whipple Museum of the History of Science. Discover the evolution of scientific instruments and explore the breakthroughs that have shaped our understanding of the world. From astrolabes to telescopes, this museum will transport you through the history of human curiosity and ingenuity.
The Scott Polar Research Institute
Step into the world of polar exploration at the Scott Polar Research Institute. Learn about the feats of legendary explorers such as Captain Robert Falcon Scott and Sir Ernest Shackleton, and immerse yourself in the harsh beauty of the Arctic and Antarctic regions through stunning photographs and exhibits.
Nature and Outdoor Activities
Beyond the scholarly ambiance and architectural grandeur of Cambridge lies a verdant oasis of natural beauty and a plethora of outdoor activities. The city, with its meandering riverbanks, lush green parks, and serene botanical gardens, beckons nature enthusiasts and adventure seekers alike.
Whether it's a leisurely stroll amidst ancient trees, a refreshing cycle through picturesque meadows, or bird-watching in secluded wetlands, Cambridge offers a delightful array of experiences that reconnect one with nature's wonders.
Cambridge American Cemetery and Memorial
Pay tribute to the fallen heroes of World War II at the Cambridge American Cemetery and Memorial. Explore the peaceful grounds and reflect on the sacrifice made by thousands of American soldiers who fought for freedom. The Memorial chapel, adorned with beautiful mosaics, offers a serene setting for contemplation.
Wandlebury Country Park
Escape the hustle and bustle of the city and immerse yourself in nature at Wandlebury Country Park. This expansive park offers walking trails, woodlands, and meadows, making it the perfect spot for a picnic or a peaceful stroll. Keep an eye out for wildlife, including birds, deer, and even rare orchids.
Anglesey Abbey
Discover the enchanting beauty of Anglesey Abbey, a Jacobean-style house surrounded by breathtaking gardens. Explore the extensive grounds, which include a winter garden, a rose garden, and a working watermill. Don't miss the chance to visit the house itself and marvel at the impressive art collection and historical artefacts.
Festivals and Cultural Events
Cambridge is a vibrant and cosmopolitan city with a rich cultural heritage. It is home to a number of festivals and cultural events throughout the year, which attract visitors from all over the world.
Amidst the storied halls and ancient streets of Cambridge, there pulses a vibrant rhythm of celebration and artistic expression.
Throughout the year, the city transforms into a stage for an eclectic array of festivals and cultural events that capture its rich heritage and dynamic contemporary spirit.
From the reverberating notes of classical music festivals to the vivid hues of art exhibitions, and from literary soirees that gather the world's thinkers to film festivals spotlighting cinematic gems, Cambridge revels in a cultural panorama that is both diverse and captivating.
Some of the most popular festivals and cultural events in Cambridge include:
Cambridge Folk Festival: A four-day festival of folk music held in July.
Cambridge Summer Music Festival: A two-week festival of classical music held in July and August.
Cambridge Science Festival: A week-long festival of science and technology held in March.
Cambridge Film Festival: A week-long festival of independent cinema held in March.
Cambridge Literature Festival: A week-long festival of literature held in November.
Cambridge Winter Wonderland: A Christmas market and funfair held in December.
Cambridge Folk Festival
Immerse yourself in the vibrant world of folk music at the annual Cambridge Folk Festival. Experience live performances by renowned artists, discover emerging talents, and join in the lively atmosphere of this four-day celebration of music, dance, and culture.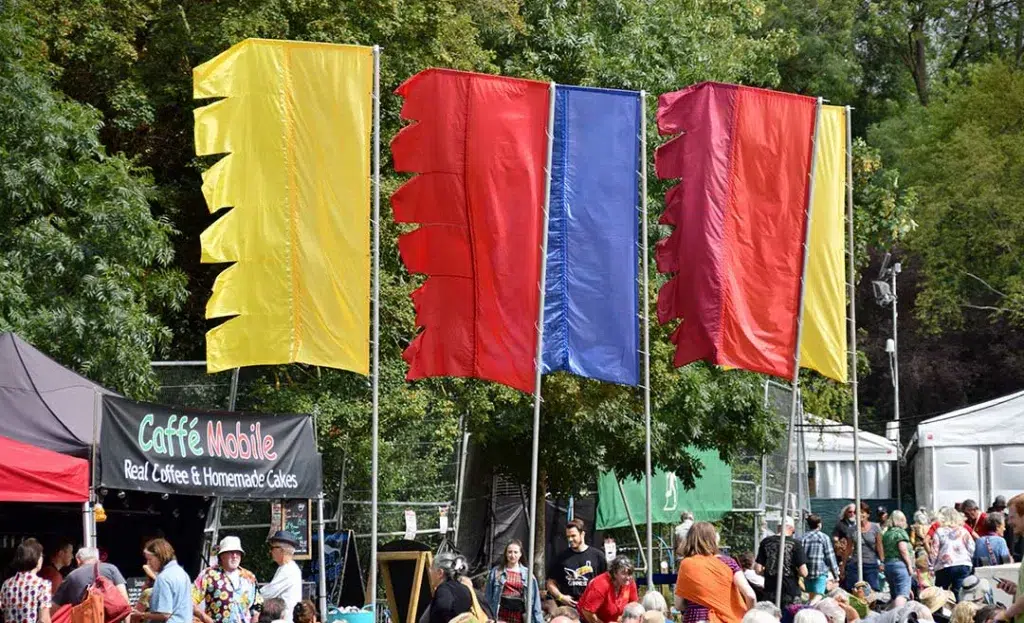 The Cambridge Shakespeare Festival
Transport yourself back in time and enjoy open-air performances of Shakespeare's plays in the stunning college gardens of Cambridge. From the tragedy of Macbeth to the comedy of A Midsummer Night's Dream, these performances offer a unique and magical theatrical experience.
The Cambridge Science Festival
Celebrate the wonders of science at the Cambridge Science Festival, a week-long event that offers a range of interactive exhibitions, talks, and workshops. From mind-boggling experiments to fascinating discussions with leading scientists, this festival provides a captivating insight into the world of science and innovation.
Shopping and Dining
Amid the historic spires and scholarly ambiance of Cambridge emerges a world of tantalising flavors and unique retail experiences.
The city, renowned for its academic prowess, also boasts a rich tapestry of boutiques, artisanal shops, gourmet restaurants, and cozy cafés. Meandering through its quaint streets, one can discover everything from centuries-old bookshops to contemporary fashion hubs, and from traditional English tearooms to international culinary delights.
Whether you're searching for a handcrafted souvenir, indulging in the finest local produce, or embarking on a gastronomic journey across global cuisines, Cambridge promises a delightful blend of tradition and modernity.
The Grand Arcade
Indulge in some retail therapy at the Grand Arcade, Cambridge's premier shopping destination. With over 60 stores offering a range of high-end brands and designer boutiques, you're sure to find something to suit your taste.
Market Square
Immerse yourself in the bustling atmosphere of Cambridge's Market Square, where you can browse an array of stalls offering fresh produce, artisanal goods, and unique crafts. From delicious street food to handmade jewellery, this vibrant market has something for everyone.
Cambridge Food Tour
Embark on a culinary adventure and savour the flavours of Cambridge through a guided food tour. Sample delicious local delicacies, visit artisan food producers, and learn about the rich culinary heritage of the city. From traditional English fare to international cuisines, this tour will tantalise your taste buds.
Conclusion
Cambridge truly offers a world of inspiration and discovery for visitors of all interests and backgrounds. From exploring historic landmarks and immersing yourself in culture to enjoying the beauty of nature and indulging in culinary delights, this city has something to offer every traveler. So, whether you're planning a day trip or a longer stay, make sure to include these best things to do in Cambridge on your itinerary. Get ready to be captivated by the charm and allure of this remarkable city.
Remember, this guide only scratches the surface of what Cambridge has to offer. Be open to exploring beyond the well-known attractions and uncover hidden gems that will make your visit truly unforgettable. Happy exploring!
Planning to visit in the winter of 2023-2024? Learn more about a UK Winter Breaks!
FAQ
What is punting?
Punting is a traditional activity that involves propelling a flat-bottomed boat down a river using a long pole.
How much does punting cost in Cambridge?
he price of punting in Cambridge varies depending on the type of punting tour you choose, the punting company you book with, and the time of year. However, you can expect to pay around £20-£25 per adult for a shared punting tour.
How long is a punting tour?
Punting tours in Cambridge typically last around 45-50 minutes. However, options for shorter and longer tours are always available.
Do I need to book a punting tour in advance?
 It is advisable to book your punting tour in advance, especially if you are visiting during peak season.
What should I wear on a punting tour?
 It is important to wear comfortable shoes and clothing on a punting tour. You may also want to bring sunscreen, sunglasses, and a hat, especially if you are punting on a sunny day.
Is punting suitable for children?
Yes, punting is suitable for children of all ages. However, children under the age of 16 must be accompanied by an adult.
Can I self-hire a punt?
Yes, you can self-hire a punt in Cambridge. However, it is important to get instructions from the punting company on how to steer and operate the punt safely.
Is punting safe?
Yes, punting is a very safe activity. However, it is important to follow the instructions of your punter and to be aware of your surroundings.
What is the best time of day to go punting?
The best time of day to go punting is during the morning or evening, when the weather is cooler and there are fewer people on the river. However, punting can be enjoyed at any time of day.
Can I take food and drinks on a punting tour? 
Yes, you can take food and drinks on a punting tour. However, it is important to dispose of your rubbish responsibly.
What is the cheapest punting in Cambridge?
The cheapest punting in Cambridge is to self-hire a punt from Trinity Punts. The price is £20 per hour, and you can hire a punt for as long or as short a time as you like.
However, it is important to note that self-hire punting is not for everyone. It requires a reasonable amount of physical effort, and it can be difficult to steer a punt, especially if you are new to it. There is also the risk of falling into the river.
If you are not comfortable self-hiring a punt, then the next cheapest option is to book a shared punting tour. These tours typically cost around £20-£25 per adult, and they last for around 45-50 minutes.